Explore the benefits, features, and types of mezzanine racking systems to maximize warehouse storage capacity, improve workflow efficiency, and create a personalized solution for your business needs.
Are you struggling with limited warehouse space? A mezzanine racking system may be the perfect solution for your storage needs. This innovative system not only optimizes your warehouse capacity but also improves productivity and efficiency. In this article, we will discuss the benefits, features, and types of mezzanine racking systems that can help transform your warehouse into a highly organized and functional space.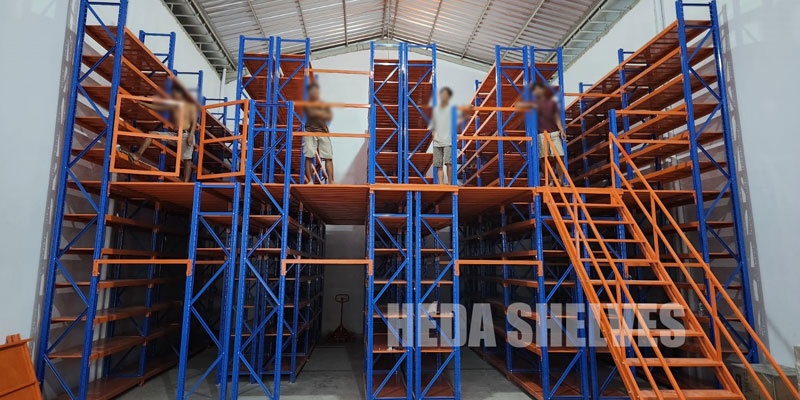 What is a Mezzanine Racking System?
A mezzanine racking system is a freestanding, elevated platform built within a warehouse or storage facility. It allows you to take advantage of the vertical space available, thereby increasing your storage capacity. Typically, mezzanine floors are constructed using steel, and they can be customized to suit various applications, such as additional storage, offices, or workstations.
Benefits of a Mezzanine Racking System
1、Increased Storage Capacity: By utilizing the vertical space within your warehouse, you can significantly increase your overall storage capacity. This helps you maximize the efficiency of your existing space without the need for costly expansions or relocation.
2、Cost-effective: Compared to traditional expansion methods, mezzanine racking systems are an affordable solution for growing businesses. They are easily installed, dismantled, and reconfigured, making them a flexible and adaptable option.
3、Improved Workflow: A well-designed mezzanine system can improve the workflow and efficiency of your warehouse operations. By organizing your inventory and separating different functions, such as picking and packing, your team can work more efficiently.
4、Customizable: Mezzanine racking systems can be tailored to suit your specific needs and requirements. This allows you to create a personalized and functional solution that best suits your business.
Types of Mezzanine Racking Systems
1、Structural Mezzanine: This type of mezzanine is a self-supporting structure, built using steel columns, beams, and decking. It is a sturdy and durable option, ideal for heavy loads and high-traffic areas.
2、Shelving Supported Mezzanine: This system utilizes existing warehouse shelving to support the mezzanine floor. It is a cost-effective solution that can be easily expanded or modified as your storage needs change.
3、Rack Supported Mezzanine: In this type of mezzanine system, pallet racking is used to support the mezzanine floor. It offers additional storage space and is suitable for warehouses with a high volume of palletized products.
A mezzanine racking system is an excellent solution for businesses looking to maximize their warehouse storage capacity. With its customizable features, cost-effectiveness, and ability to improve workflow efficiency, investing in a mezzanine system can provide long-term benefits for your business. Take your warehouse operations to the new level by considering a mezzanine racking system today.