Tire racks are tailored to the individual characteristics of the goods - tires are one of the most common and complex goods to store, so racking systems must be specially designed for them.
Tires are fundamental to the diversity of vehicles and machines, and can therefore vary greatly in size, material, and weight.
Through this article, we will focus on car tires, their preservation characteristics and the most suitable storage system.
1. Conditions for properly storing tires:
Firstly, it is important to analyze the environment and environmental conditions for storing tires, whether in an industrial warehouse, commercial facility, or manufacturing workshop. Car tires must be stored indoors to avoid cracks if stored outside. Must be in a place away from direct sunlight, at moderate temperature (15-25 degrees), low humidity and properly ventilated. It should also be an environment that is free of many chemicals and without artificial heat sources such as a running engine or active gas pipeline. For this, it is important that the premises are cleaned regularly and thoroughly.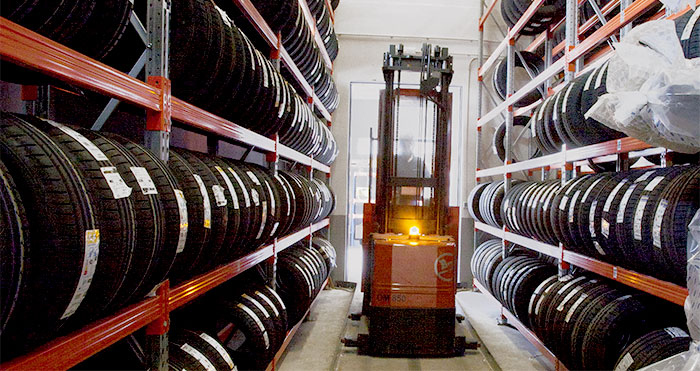 2. Car tire preservation characteristics:
Once the space inside an industrial warehouse or facility where tires are stored is ready, keep the following points in mind to properly store and maintain them in good condition.
Do not place the tire on the ground,The tire should not be placed directly on the ground to avoid moisture. They should ideally be stored on pallets, or at least on pallets or other surfaces on the ground.
Do not expose the tires to any pressure
Tires must be stored on a shelf without subjecting them to any compression or tension that could deform and alter their normal subsequent operation.
Pay special attention to the risk of fire
As a flammable commodity due to its rubber component, special attention must be paid to the risk of fire and the prevention system of warehouses and industrial warehouse shelves. Local regulations must be examined to determine the correct hedging of these risks.
Determine the correct composition of goods
If tires are stored without rims, they should be stored upright and rotated periodically to avoid any deformation in the rubber. If the tire includes the rim, the storage time will be shorter. They should be stored horizontally, inflated to the required pressure and also rotated frequently.
Careful handling of tires
It is necessary to clean the car cover before storing it on the shelf, use gloves to handle it.
Paying special attention to the safety factor, consider using automatic handling equipment to manipulate them.
Large number of references
When managing a tire inventory, keep in mind that there will be a large number of different references to store. If the archive was designed only for car tires, these references wouldn't vary much in weight and size, but organizing and managing the inventory of each reference would be a challenge.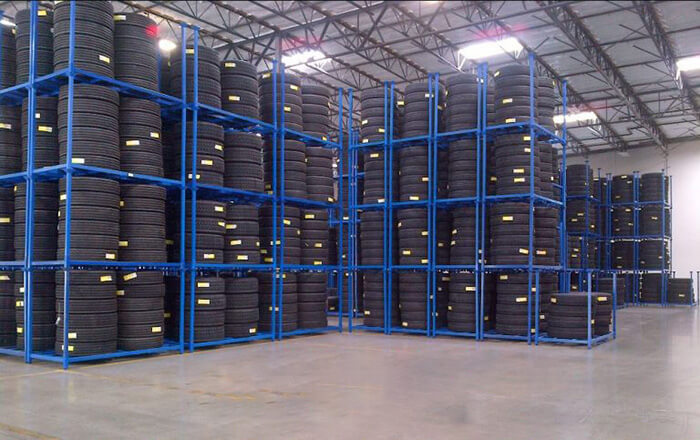 3. Tire shelves and suitable picking solutions:
The right storage systems for industrial tire storage are manual picking solutions such as long-span or carton flow racks. As they can be adapted to different sized tires or wheels. It is an industrial racking solution that allows manual storage of tires, with direct and immediate access to all stored goods, facilitating warehouse management. and commodity flows. It is also a very flexible system that can be adjusted to different heights, thus adapting to all tire sizes.
The shelf system can be increased in height, adding accessories such as wooden boards or metal trays to store other goods or tires with horizontal rims. Depending on the weight the racking will support, a pallet racking structure (such as a selective pallet racking) can be used if necessary.