Are you looking to maximize your retail space and increase profits? Then it's time to explore the benefits of supermarket shelves. From making more efficient use of existing floor space to creating an eye-catching display, supermarket shelves are one of the most efficient ways for retailers big and small to maximize their store layout. With a wide range of sizes and styles available, these shelving solutions can fit into any shop interior - whether it's a grocery store, convenience store or fashion boutique. In this blog post we will discuss the different types of supermarket shelves available, how they can help improve productivity in your business and why shelving is essential for stocking products efficiently. So let's get started!
The importance of efficient use of space in retail environments
When it comes to retail environments, space is a precious commodity. From small boutique stores to larger retail chains, optimizing the layout of the space can make all the difference in driving sales and creating a memorable customer experience. With rising rent costs and ever-changing consumer behavior, retailers need to be smart and efficient with their use of space. A well-planned layout can help increase foot traffic, enhance visibility of products, and ultimately lead to greater sales. In addition, creating a comfortable and seamless shopping experience can build brand loyalty and encourage repeat business. So, whether it's through strategic product placement, utilizing technology or simply streamlining check-out lines, making the most of every square foot is paramount in a successful retail environment.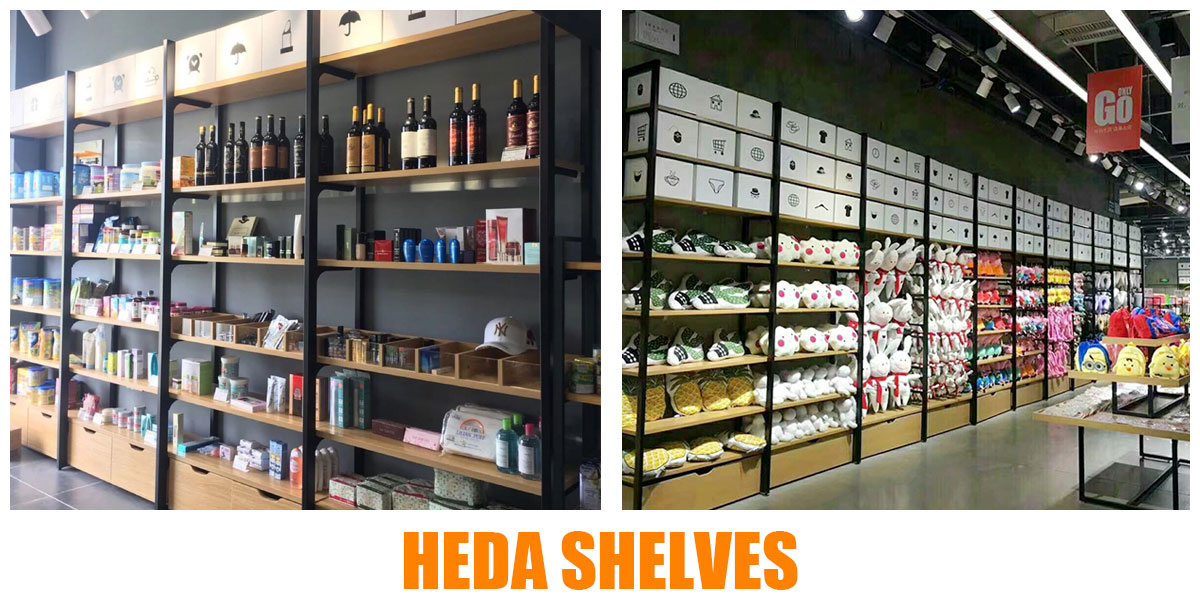 The advantages of our supermarket shelves over other types of retail shelving options
If you're running a retail business, it's important to have the right shelving options to showcase your products in the best way possible. While there are a variety of retail shelving options on the market, our supermarket shelves stand out for several reasons. As heda shelves supplier, we understand the importance of high-quality, functional shelving that can hold a variety of products and withstand daily wear and tear. Our shelves are designed with versatility in mind, allowing for easy customization and rearrangement to fit your specific needs. Plus, our supermarket shelves are durable and reliable, ensuring that they will last for years to come. So, if you're looking for shelving that will enhance your store's display and functionality, look no further than our supermarket shelves.
Additional features and functionalities to optimize your retail space and product displays
In order to stay competitive in the retail industry, it is important to constantly innovate and optimize your store displays. Thankfully, there are a variety of additional features and functionalities that can help you take your retail space to the next level. For example, incorporating digital signage can provide a dynamic element to your displays, while mobile point-of-sale systems can help streamline transactions and increase efficiency. You might also consider adding interactive displays or implementing a customer loyalty program to enhance the overall shopping experience. By exploring all the different ways to enhance your retail space, you can create a shopping experience that is engaging, memorable, and most importantly, drives sales.
It is clear that efficient use of space can make the difference between a thriving retail business and one that struggles to make ends meet. Our supermarket shelves provide the perfect solution for businesses looking for reliable, reasonably-priced shelving. With features like adjustable height options, specialized materials for high-load support, and additional customizable options on many models, these shelves are sure to meet all your unique needs and provide you with an effective solution for displaying your products. They're also easy to install and maintain - making them ideal for both new store builds and upgrading existing stores. For those ready to take their retail space to the next level, our team here at Heda Shelves Supplier has everything you need to get started. Contact us today and let's discuss how we can help you make the most of your retail environment!